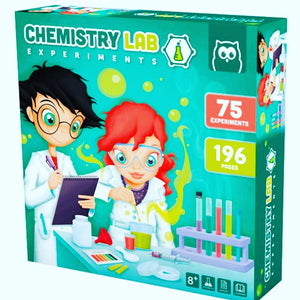 Chemistry Experiments Laboratory

With this chemistry lab you can do up to 75 experiments using just ingredients that you can find in the kitchen! Ingredients such as oil, lemon, vinegar, milk, water, eggs ... Includes accessories to perform the experiments.
Age: From 8 years old.

Includes:
4 test tubes and 4 caps, 1 support, 1 clamp,
1 pipette, 20 Ph pers,1 Ph scale,1 glass
1 large glass,1 measuring spoon,1 shaker.
Booklet of almost 190 pages where you can find up to 75 experiments in French, English, German, Dutch, Spanish and Italian.