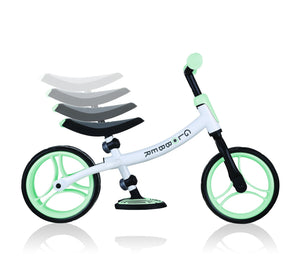 Globber GO BIKE Retro Green
This innovative balance bike is designed to teach kids essential motor skills and control their balance before transitioning to their first pedal bike. It adapts to the growth of the child since it integrates a saddle with 3 adjustable heights (33-37cm) and an adjustable T-bar in 2 (43-48cm) to provide maximum comfort and usability for children between 2 and 5 years old.
In addition, it is super easy to transport once the game is over thanks to the exclusive and innovative design of the seat, made with soft and non-slip TPR. In this way, the hand conforms to the bottom of the seat to hold it firmly during easy transport.