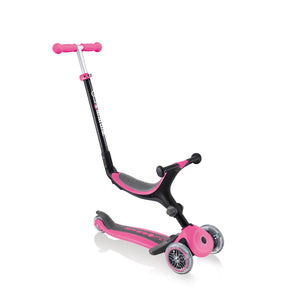 Go UP Sporty Foldable Plus
Let your child cruise around the neighborhood in a cool and unique ride with the Globber Go Up Sporty Scooter. Its 3-height adjustable anodized T-bar, 2-height adjustable TPR seat, and ergonomic handlebar grips keep your kid comfortable during rides.
Key Features
Patented steering lock button and robust composite brake provide your child with a safe ride
Button lets you easily switch between 2 modes (walking bike and scooter) with just a simple push
High-rebound PU cast front and back wheels allow your young one to cruise smoothly on most surfaces
Walking bike is suitable for ages 15-36 months, while the scooter is suitable for ages 3 years +
Note: Walking bikes can hold up to 20kg of weight. The scooter can hold up to 50kg of weight.