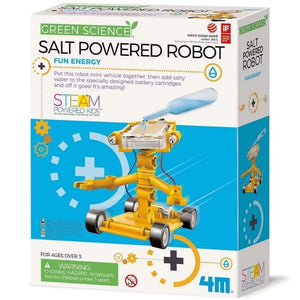 Green Sciencie Salt Powered Robot
Kids will love getting hands on as they learn and understand the future of alternative energy sources. Children can put together the mini robot using the different body part pieces, axels, wheels and motor. Then they can create a saltwater mixture to power their Robot to zoom away.
Ideal for developing hand-eye coordination, creative thinking skills, engineering skills, construction skills, logical thinking and more.
This STEAM inspired kit helps to teach the principles of renewable energy while encouraging child to build and create their very own machines. The Green Science range from 4M supports STEAM learning so that children can learn how to use the principles of physics to build their own gadgets, robots and contraptions.