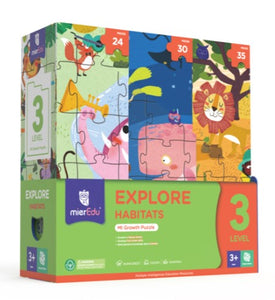 Mi Growth Puzzle Level 3 Explore Habitats
The mierEdu Multiple Intelligences Growth Puzzle series are designed cleverly for children to grow smarter throughout their age milestones. The package is eco-friendly and smartly designed for the bookshelf.
Little ones can explore the three habitats and discover their favourite animals like Lion, Giraffe, and Elephant. The instruction manual provides opportunities for parents and children to read aloud and learn fun facts.