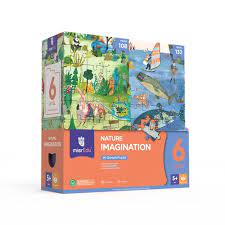 My Growth Puzzle Level 6 Nature Imagination
The mierEdu Multiple Intelligences Growth Puzzle series are designed cleverly for children to grow smarter throughout their age milestones. The package is eco-friendly and smartly designed for the bookshelf.
Two map puzzles, World and Australia, take the young explorers on a visual tour around the world. Discover the incredible geographical features, human culture, wildlife and landmarks around the globe and Australia in details.