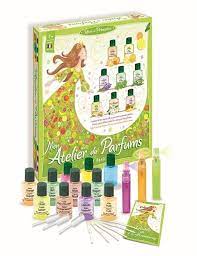 My Perfume Workshop Fresh Flowers
THE FRESH FLOWER PERFUME IN MY WORKSHOP IS THE OPPORTUNITY FOR KIDS TO ENGAGE IN SMELLING CREATIONS AND IMAGINE A WORLDWIDE PERFUME TOUR. 
WITH THE HELP OF 8 FRAGRANCE BASES THEY CAN HAVE FUN IMITATING THE BEST PERFUMERS AND RECOVERING THE GESTURES OF THE PERFUME CREATION WORKSHOPS IN PARIS. 
BY PLAYING WITH FRUITY OR WOODY TONIC NOTES, THEY WILL INVENT PERFUMES THAT WILL INSPIRE THEM. 
SMALL COLORED JARS ACCOMPANY THE BOX SO YOUR CHILDREN CAN JUST MAKE THEIR MIXTURES.