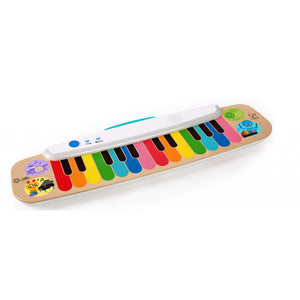 Notes & Keys Musical Toy
A top with innovative tactile technology, with a wooden structure, is the ideal tool to bring children closer to music! 
The lights make the game even easier and help kids learn how to play songs in a fun way! 
With more than 150 sounds and melodies, with 4 different instrument styles: piano, xylophone, drums and hip-hop! 
This toy instrument will help your child tune into different sounds and rhythm patterns from an early age. 
The child will learn to match the colors to the notes thanks to the color code of the score and the piano keys. 
Creating nice melodies and sounds will be child's play! 
Made of natural wood and decorated with vibrant non-toxic paints, this product is built to last for years. 
Music has countless benefits in children, 
improves self-esteem and coordination, develops a sense of rhythm and concentration. 
A perfect gift for children aged 12 months and up!