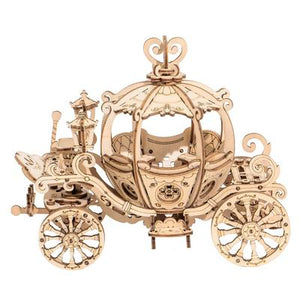 Pumpkin Cart Wooden Puzzle
Pumpkin Cart is a romantic pumpkin cart models hand-crafted by yourself. Dreamy outlook with delicate details, it will be the best decor for your home!
ROBOTIME has created and incredible collection of models that recreate with incredible detail scenes from daily life, 1:24th scale. Assembling these amazing dioramas you will have hours of fun with every form of DIY crafting, from colouring, stitching, trimming, gluing and decorating  your miniature preferred room.
These DIY kits include everything needed for assembling, except patience and dexterity that surely will be your part of the deal.
It's an amazing feeling when you finish one.
Includes:
All materials needed to assemble the miniature diorama.
With necessary assembly tools, glue, pigments, brush, clippers…
Instructions to show you how to assemble step by step